STRIKING STUFF


Roland HPD15 Handsonic Hand Percussion Pad Published in SOS October 2000
Reviews : MIDI Controller

ROLAND HPD15 HANDSONIC HAND PERCUSSION PAD

Nicholas Rowland is star-struck by Roland's frankly fabulous new hand percussion controller.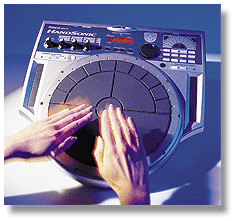 Over the past 20-30 years, much blood, sweat and tears have gone into realising the dream of an electronic drum kit which replicates the sound and feel of acoustic drums. However, history records no similar technology race to produce a hand-played electronic instrument designed to convincingly emulate the sound and feel of of latin and other ethnic percussion. That's unless you count Korg's long-defunct Wavedrum (see SOS November '94), an early experiment in acoustic modelling which included a range of percussion sounds among its somewhat esoteric sound set. Stunning as this instrument was -- sonically, technically and in terms of its objet d'art appearance -- its hefty price tag meant it was always going to be beyond the range of your average Joe Bongo.
Hence, I think Roland can fairly claim a true first with the launch of their relatively affordable HPD15 -- or Handsonic to give it its more flowery title -- a compact and lightweight hand percussion unit that you can, and I quote, "play with your naked hands". The Handsonic is aimed fairly and squarely at percussionists -- those musicians who are usually to be seen at the side of the stage, shaking, rattling and rolling all manner of strange objects with unpronounceable names!
However, the Handsonic is not just of relevance to percussionists. There are many musicians and producers who like creating rhythm tracks, who feel less than confident about wielding a pair of drum sticks, but are perfectly able to tap out rhythms using their fingers. So even if you've never slapped a conga in your life, it's worth reading on.
ROLAND HPD15 £879
pros

Great sounds.

Great feel.

Rewarding to play as an instrument in its own right.

cons

Tacky looks.

Might have benefited from more pad trigger inputs.

Rather expensive.

summary
The Handsonic is a tour de force -- responsive, creative, and fun to play.

The Handsonic boasts more than 500 drum, percussion and melodic sounds, built-in effects, a sequencer, inputs for kick and hi-hat pedals and MIDI. The touch-sensitive playing surface is based on that of Roland's V-Drums and offers features such as positional sensing to alter the timbre according to where you strike the pad surface. It also means you can damp sounds by touching pads or bend sounds by pressing down harder -- techniques which are all part of the art of playing many percussion instruments. There is also the luxury of two ribbon controllers, a D-Beam controller and a trio of knobs for extra real-time manipulation of sounds.
I have to confess to being a little underwhelmed by the Handsonic in the flesh (or should that be plastic?); it looks like something the BBC props department might have invented for Dr Who and the Invasion of the Cybermen circa 1969. The retro-futuristic styling gives it the air of a toy rather than of a 'proper' instrument and its very plastic-y feel also made me wonder just how well it might withstand the slings and arrows of outrageous gigging. OK, so looks aren't everything, but I am not alone. These were the comments made by various friends, including a couple of percussionists -- the very market at which the Handsonic is aimed. However, any doubts about the Handsonic's worthiness were blown away once people started to play it. Despite its toytown looks, this is one serious piece of kit.
Let Play Commence
As the photographs show, the centre of the unit is taken up with a 10-inch rubber playing surface divided into 15 playing areas. The main five zones are arranged like a telescopic rifle sight (four quadrants with a small circular pad in the middle) while the other ten pads -- approximately one inch square -- range round the outer edge of the top half. It's a very practical
Handsonic Edited Highlights

Playing surface: 10-inch rubber pad with 15 zones. Pressure sensor allows for muting and pitch control of sounds; positional sensing allows subtle modification of timbre.

Real-time controllers: Two ribbon controllers, D-Beam controller, three control knobs.

Polyphony: 64 voices.

Sounds: 572 pad sounds, 54 'backing instruments'.

User patches: 80.

Sequencer: 99 preset patterns, 99 user patterns, real-time recording only.

Metronome function.

Tempo: 20-240bpm.

Effects: 17 reverb/delay types, 85 multi-effects.

Connectors: Left/mono, Right output jacks; Stereo Mix In jack, Expression Pedal/Hi-hat control input; dual Trigger Input jack; dual Footswitch Input jack; MIDI In and Out/Thru.
arrangement derived from playing techniques used for instruments such as congas and tabla. For example, you can use the heels and palms of your hands to play the main pads and your thumb to hit the centre circle, while also drumming on the outer pads with your fingertips.

The possibilities for sound triggering and manipulation are also expanded by the two ribbon controllers (one either side of the main pad), which offer a suitable method of playing sounds like scrapers and bell-trees or droning instruments like sitars. For good measure they can also be used to bend or scratch sounds triggered from the main pad. Central at the top is Roland's modern-day take on the Theremin -- their D-Beam controller -- which again can be used to trigger extra sounds and/or to modify the parameters of sounds triggered from elsewhere. The dual trigger input and hi-hat controller also allow you to bring other limbs into play (see the 'Itchy Feet' box on page 104 for more details) though even with all available digits hammering away, you'd be hard-pushed to exceed the unit's generous 64-note polyphony.

As already mentioned, the triggering system behind (beneath?) the main pad is based on the V-Drums -- certainly the best electronic drums I've ever played. Of course, they were designed to be hit by sticks, so I was interested to see how the technology translated into an instrument that attempts to replicate the feel of hand-played percussion -- a considerably greater challenge. I have to say that Roland have come up trumps again, as becomes abundantly clear when you start to plough your way through the 160 preset patches. These are organised in 10 groups, the first four of which give you groups of instruments according to geographical origin, starting with Latin America, then working eastwards across Africa, India and Asia. Each patch contains up to 18 sounds, drawn from the unit's main store of 572 sounds. Around 300 of these are drum and percussion sounds and even long-time students of all things percussive should prepare to be staggered by the variety on offer. The list ranges from common-or-garden varieties such as conga, bongo, timbale, pot drums, tabla and gamalan, through to the slightly more exotic such as djembe, frame drums, paneiro, berimbau and dholak, and then on to the downright obscure. No, I hadn't heard of a Ban Gu, a Buk or a Yang Qin either. But believe me if you ever need to score a car chase in a Shanghai Kung-Fu movie, you'll wonder how you ever managed without them!

Having been transported around the world, the remaining patch groups bring us back to Western shores. Group five consists of sets of 'Orchestral' sounds, comprising tuned percussion instruments such as vibraphone, glockenspiel and marimba along with orchestral percussion such as timpani, cymbals and orchestra hits. The patches in Bank 6 ('Drums') are based mainly on conventional drum kit and drum machine sounds,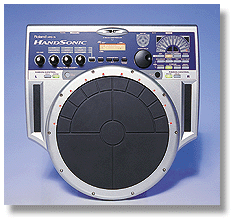 while 'Dance' is geared towards processed beatbox and sampled loop-type sounds. 'SFX' is full of the kind of novelty noises including an excellent patch built up of atmospheric rainforest sounds. Group nine -- 'Others' -- consists of melodic electronic sounds such as SH101 bass, guitar and rave-like Juno synth sounds, while the final group consists of various rhythm loops. The loops themselves, which cover everything from to samba to funky disco, are usually triggered by tapping the small outer pads, with drum sounds assigned to the main five pads so that you can play along.
The response of the pads, and indeed of the ribbon controllers and D-Beam is extensively customisable to suit your particular playing style. There are a whole raft of parameters available not only to tweak the velocity curves but also minimise such nasties as false triggering. As well as one-shot mode, pads can be set up to play sounds as long as the pad is pressed, or to start a sound when tapped and stop it when tapped again. And there are other tricks up the Handsonic's sleeve that call for a few techniques that you won't find in Ban Gu for Beginners . For example, the roll function -- perfect for creating instant Pearl & Dean bongo tributes
-- can be linked to dynamics so that if you play a pad lightly, you get just a one-shot sound, but if you press the pad down and the sound will repeat, with roll times determined by the currently selected tempo. Sounds can also be modified on the hoof using the three gas-cooker-style knobs situated at top left of the unit (see right). A matrix-switching arrangement gives you access to nine parameters in all -- Level, Pitch, Pan, Multi-effects Depth, Sweep, Color (a tonal characteristic), LFO Pitch, LFO Rate and LFO Filter or Amp Depth.
Just For Effects

The HPD15 is blessed with two effects busses -- one dedicated to reverbs and delays, the other offering a wide range of multi-effects. Reverb types include various representations of real spaces -- a club, gym, and hall, warm, dark and bright rooms, and an intriguing setting designed to make sounds seem as though they are coming from under the ground. There are also a couple of plate reverbs. The six delay types range from a single repeat with a short delay time to a long panning delay. All parameters are extensively programmable, offering plenty of scope to add the right ambience to your sound set.

The Multi-effects buss offers an embarrassment of riches with no less than 85 different effect types, all of which are extensively programmable. I won't bore you with the complete list, but the following informal groupings and edited highlights should give you an idea of what's on offer:

EQ related effects: low, mid and high cut or boost.

'Outboard' processing, including a compressor in hard and soft versions, plus limiter.

Instant ambience effects, including 'Radio', 'Lo-fi', 'On Air' (for a smooth broadcast-type sound), 'Tiled Room' and a 'heard-outside-the-door' kind of sound.

Distortions: eight distortion types based around different types of amps and speakers.

Modulation effects: the range includes choruses, flanging and phasing in both straight and exotic varieties.

Pitch-shifting/arpeggio effects -- including 'Bandit', which gives a glissando effect, and 'Booming', which adds in the twang of a plucked string (very Robin Hood!).

Delay effects: 13 varieties, ranging from cross-modulation delay to three- and four-tap delays with or without auto-panning. Delay times are sync'ed to the currently selected tempo of the sequencer.

Reverb: as with the reverb buss, this section includes various rooms, halls and stage settings, plus gated and reverse-gated reverbs.

Phew! And that's not to mention the handful of unclassifiable effects such as 'Buzz', which turns sounds into candidates for a percussive version of the Flight of the Bumble Bee, and 'Rubbing' which adds a grinding sound.

The only disappointment is that there's only one multi-effects buss on offer, given the sheer variety of effects available and the startling transformation of sounds that you can achieve with them.

As with the reverbs, the multi-effects are extensively tweakable. And for many of them, certain parameters can also be modified in real time using the controller knobs (specifically the Multi-effects Depth and LFO controls) and/or the D-Beam controller.

Both the reverb and multi-effects types are set globally for each patch, with send levels programmable for each sound. A button on the control panel also turns the Multi-effects buss on and off as desired.

And as a final point, it's worth noting that the multi-effects buss can be sent to the reverb buss.
Programming
The Handsonic offers 80 user patch locations to store your custom sound sets. Although visually rather a mess, the design of the control panel does prove easy to work with -- and I imagine it would still be so even if you were having to fumble your way around the knobs and switches on a darkened stage. All the switches light when active, while a target-shaped display shows which main pad is being triggered or is selected for editing. The smaller pads each have an associated LED which fulfils the same purpose. A fan-shaped arrangement of LEDs on the right indicates the currently selected sound Group, with the Patch name also appearing in the central LCD display in the middle of the control panel. However, I did find that leaning over to look at the display often inadvertently triggered the D-Beam controller!
Assembling your own patches is a breeze, thanks to the two-tier editing system: EZ Edit gives you access just to the main parameters such as Volume, Pan, and Effects send, while Edit gives you complex control over how sounds and pads interact dynamically. For example, hitting one pad can mute or bend the sound assigned to another, or control various sound parameters such as resonance, colour or LFO rate. The Handsonic is akin to a synth equipped with a comprehensive modulation matrix and, once you've got your mind round it, you can use it to either make instruments behave in a more realistic and natural fashion, or go for out-and-out wackiness.
Sequencer
The HPD15's onboard sequencer offers 99 preset patterns which, like the sounds themselves, trot the globe in terms of musical style. The quality of programming is first-rate -- not only are they great as a practice aid, they also open your mind to new styles. Each pattern consists of four parts -- two percussion and two melodic lines, so once you've learned the intricacies of seven-beat clay-pot rhythms you can mute the pre-recorded percussion and play along to the bass and melody. The sequencer makes use of another 54 'backing' sounds, and these are also at your disposal when recording your own sequences.
There are 99 user pattern locations available and an extensive list of setup and control parameters before you even start. Pattern length is programmable between one and 999 measures and as you might expect, weird time signatures are very much on the menu if you want them. Options for playback include Tap, which means that the sounds contained in a sequence are played back one at a time when a pad is struck. Programmable parameters for the four pattern parts include Patch or Instrument selection, volume, effects send, and bend range. Other edit options include Pattern Copy, Delete, Part Erase and Pattern Join.
The sequencer can be sync'ed via MIDI to an external device, with the Handsonic acting as the master or the slave. You can also use an external keyboard to record the melodic parts of your sequences.
MIDI-wise, the Handsonic is very well-endowed. The best thing i
| | | |
| --- | --- | --- |
| | Itchy Feet? | |
| | The Handsonic has a dual-trigger input which enables you to attach, say, a kick trigger unit plus one other pad, or a stereo pad with a main/rim trigger for playing rimshots, and a hi-hat control jack. Also available is an input for Roland's FD7 hi-hat control pedal, which can be set up with the appropriate sound to give an extremely realistic impression of an acoustic hi-hat. A second footswitch input can be set up to take two separate units, allowing you to step up and down through patches, turn the effects on and off, play and stop the sequencer, control the Roll/Hold functions and select which parameter is controlled by the real-time modifier knobs. | |
s that anything you do in real time sends out some kind of MIDI controller information. This means you can record performances into an external sequencer complete with bends, scrapes and knob twiddles, and hear exactly the same thing played back -- excellent news for studio use. The Handsonic can also be used as an external controller for other MIDI sound modules, though naturally you won't necessarily be able to take full advantage of features such as positional sensing, pad muting and so on.

Conclusions

As you've probably realised by now, the Handsonic is far from a toy. Sonically, its canvas is pretty broad, and given that all the sounds are of excellent quality, this in itself would be enough to commend it as the ultimate World Music drum module. What is actually more difficult to convey in words is the factor that really makes it special -- its out-and-out playability. Somehow Roland have managed to give us an instrument which takes what are no more than stored electronic waveforms and makes them as alive to the touch as real instruments. And although purists will argue that the Handsonic doesn't respond exactly like the Real Acoustic McCoy in all departments, the experience is rich enough for this not to matter significantly.

What the Handsonic does have in common with acoustic instruments is that it benefits from being 'learned'. As experienced percussionists know, it can take months to learn how to get the full range of expression from an instrument such as a conga or bongo. And in the percussion food chain, instruments such as tablas are extremely complex -- you don't just sit down and whack 'em like you might the drums of a conventional drum kit. Although you can get meaningful results out of the Handsonic by simply tapping away, it really will pay to learn traditional techniques and rhythms and then see how they can be applied. Even after a few weeks with the review unit, I felt I was only just starting to get to grips with the creative possibilities that it offers.

Quite simply, to play is to believe. For traditional percussionists the HPD15 gives you access to the sounds of instruments that otherwise would cost thousands to buy. As a portable percussion instrument it allows conventional skin-bashers to join in jams and rehearsals in a meaningful way without setting up a complete kit. And for anyone wanting to add life to sequenced rhythms in the studio, the Handsonic is also a great piece of kit to have around. I can see it working superbly in a live DJ set, being played over drum breaks or providing the link between tracks. And we haven't even started on its obvious relevance to genres like bhangra. I think Roland may have just started a trend.